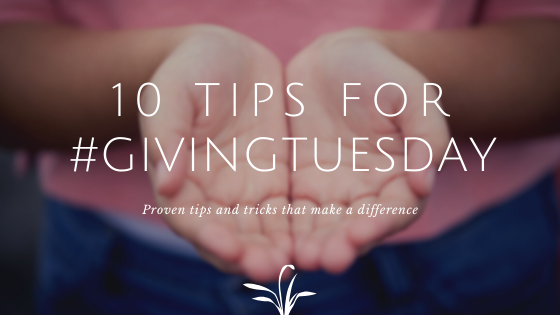 #GivingTuesday is the day when nonprofits all over the world unite together to mark this day for generosity and extending help to various causes. However, asking for money is often easier said than done. To keep the spirit of #GivingTuesday alive, Generosity Labs listed a few giving tips for you to inspire your target donors to donate to your cause.
Tip #1: Ask donors to imagine themselves as a person in need.
When you ask your donors to put themselves in other people's shoes, this helps them to sympathize with the woes of those in need.
Tip #2: Diversify your call to action.
Don't just stick to a single message. Know how you can tap other sub-groups of your target audience with a different call to action. This way, you'll be able to grow your community.
Tip #3: Raise money, not just for your church, but to #GivingTuesday.
Create a culture of giving by bringing awareness to #GivingTuesday as a whole. This embeds the importance of dedicating time to give into people's minds.

Tip #4: Use #GivingTuesday as a launch point for your year-end strategy.
Make sure you time your campaign. With #GivingTuesday held during the end of November, this gives you an opening to launch your year-end strategy.
Tip #5: Identify projects at the church, local, and global levels.
Identify a project that is inside your church. Then, name a project that's inside of your building, but at the same time, is also outside of your community. And then name a project that's global. This will provide perspective and focus for donors.
Tip #6: Challenge donors to give prayerfully.
Inspire your donors to give from the heart and to give what they believe the Lord wants them to give. This often makes each donation more meaningful and fulfilling.
Tip #7: Encourage small donation amounts.
No need for people to give huge amounts of cash, a little often goes a long way.
Download the free eBook that we have created for you with these 10 Tips for #GivingTuesday – we have also included great examples of Giving Tuesday campaigns that have been successful in the eBook!
Tip #8: Partner with other like-minded organizations.
As people often say, "The more the merrier." This is the perfect time to join the overall NGO community in recognizing a day that celebrates the act of giving.
Tip #9: Take advantage of the increased generosity of Americans.
With the increase in giving year over year since 2015, charitable giving has been on the rise and this is the perfect time to encourage people to continue, or begin giving.
Tip #10: Make Giving Tuesday a platform for first time donors.
If this will be the first time for some of your donors to give, feel free to inspire them to participate during Giving Tuesday.
We hope some of these Giving Tuesday tips will help you to inspire your target donors to give. If you'd like to know how you can cultivate a culture of generosity, please check out GenerosityLabs.org to discover more best practices.