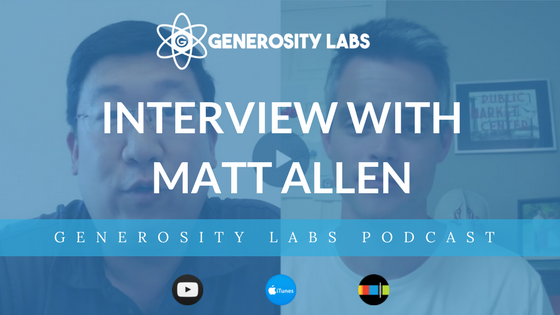 In our latest episode by Generosity Labs podcast, we meet with Matt Allen.
This Tennessean is a Creative Arts Pastor at Thompson Station Church, a passionate Duke basketball fan and has a "Bluebell Ice Cream Only" policy.
In this episode, Matt talks about
His leadership role in introducing Smart-Giving
The importance of communication in transition to Smart-Giving
How they handle and publicize earmarked donations
You can listen, subscribe or watch my interview with Matt Allen below.
The Generosity Labs Podcast is part of a new resource hub for pastors, providing free resources and information about digital giving. You can find more free resources  here.
Show Notes
In this episode, Matt mentions
Reach out to Matt via email-  mallen@tsclife.org.
A full transcription is below
Don't Miss An Episode
Did you enjoy this episode? Never miss another one!
Find us on iTunes and Stitcher Radio
Subscribe on YouTube
---
Transcription
KENNY: Hey everybody! I'm Kenny Jahng, host of the Generosity Labs podcast. Thank you for joining us today, as we travel across the country meeting with church leaders that have gotten the vision for digital giving and installing a culture of generosity in their community. Today, we're fortunate to have a guest here today from Tennessee, Matt Allen. Welcome to the show, Matt.
MATT: Hey, thanks for having me, Kenny.
KENNY: So, Matt, let me just go over your bio. It's fantastic. We've got you as a Creative Arts Pastor at Thompson Station Church, father of three girls, Baylor University Alumni in which I can forgive because you are a Duke basketball fanatic. I'm the Blue Devil myself, so, yes. We need to talk about basketball after this. Thank God, it's not March madness during our conversation. Your self boxes include "all people are creative", "good soundtracks matter" and "Blue Bell Icecream". Tell me about that last one!
MATT: It's the best icecream brand. Everybody in the country has it, so, it's a Texas thing. I was born raised in Texas. If you're going to buy icecream in the grocery store, it's a brand to get.
KENNY: Once a Texan, always a Texan.
MATT: Yeah.
KENNY: So, let's get right into it. You are at Thompson Station Church which is a little bit south of Franklin in Tennessee, a little ways off from Texas. Tell us a little bit about your role and  the church there. If we were to come in your church and visit on a Sunday, what does it look like? What's the demographics in the feel and the vibe of you church?
MATT: Sure. We're definitely a family focused, I mean, it's a fairly large church, you know, just kind of depending on the background that could be anywhere from 1400 to 1800 people here on a given Sunday. We've got three services. We've got one satellite campus just south of us in Columbia, Tennessee. So, those happened at the same time. There's just a lot of great energy and you know very, you know, current worship style, relatable teaching and we're really big on getting into serve in some way, whether you serve in the next generation or with younger ages or you're serving alongside with adult connect groups. So, once you're plugged into one of those teams or both, that's really when you kind of start to feel a part of the Thompson Station Church families.
KENNY: Love seeing ministries where teams teach you to put your faith into action, right?
MATT: Yeah.
KENNY: Tell us a little bit about the role of a creative arts pastor. What do you oversee and how does your week work?
MATT: There's a lot of things moving for every week. So, I have the privilege to be in our communications team, our worship team and our technology teams. That's just kind of a natural fit of how we as those three areas kind of interweave and work together throughout the week. The primary responsibilities are just working with our teams for the weekend experience, you know, working with our Senior Pastor for sermon series and just kind of, just how visually we want to represent that or whether in video projects that are featured again on the weekend or just may be other ways. And, so, all the different pieces of social media and communication things to branding to help him with the website. All those things wrapped into one working with a team of staff. And our church has been raising a team of volunteers to help utilize as well to help their gifts kind of reflect the same message that we're showing.
KENNY: That's awesome. Never changing landscape in your role.
MATT: Yeah.
KENNY: So, that's one of the things we're talking about today. We're talking about giving in the offering plate and the fact that your church is one of the churches that has taken the leap of faith and gone into online and digital mobile giving. Tell us a little bit about that. Does it happen only on your website? Does it happen in your services? What does that look like in your church?
MATT: Right, when I came on staff, we were obviously giving the traditional route, you know, via check or cash or have that made like in the traditional envelope, you know, in the services or anytime throughout the week. We still have those envelopes. We've adjusted them a little bit, but that's always a method to collect giving donations from people in our community and our church. And then, we had online giving as well. so that very similar to kind of like an online banking or online any kind of donation. You got a username and password. It's all secure. And then even you can schedule re-ocurring payments,  if you just don't want to worry about it, just like you would automate any other bill or donation you may have that you give to each month. So, those are in place in about a year ago. We actually launched. We research for a while some good partners to use for text giving and we launched probably about this time last year, just another option to give which would be text giving just because so much of our communication is done via text message. So, we just wanted to really offer that option and for me… I was actually at a conference. We were talking about it and thinking through what just a simple way. I was actually at a conference and had the opportunity to text give at that conference and it was so simple. That was one of the… I found out who the company was and set up. This is something that I want to review to see if it's going to be a good fit for our church. It happened to be that after we talked through everything, reviewed everything. There were several other companies we looked at but we used Kindrid. And, they were the best fit for what we needed and how we wanted to roll it out.
KENNY: Got you. And I think Kindrid has their smart giving solution and that's the name of their product/service, isn't it?
MATT: Yeah. They call it Smart Giving. You can kind of customized it based on church if that resonates but we just want to make it clear. We always refer to it as text giving so because we do have online giving in place and we just want to be real crystal clear with our language of how we do that. So, we rolled it out about a year ago. And really, for the first couple weeks, we knew the rollout was important and we didn't want to just mention it in the bulletin or put a flyer up on campus. We really did take time from our senior pastor in the service to say, "Hey, guys! We just want to offer another simple way for you to give and just to make… for you."
KENNY: Wow.
MATT: So, we actually had, you know, kind of a little demo. And, we saw it from another church. Another church kind of rolled it out that way and said, "That looks good. I think that would go over well with our people." So, while our senior pastor is you know, he get his phone and said, "I want you guys to come follow along with me. I'm going to show you how easy this is."And, he liked the kind of joke with him and said,  "If I can do this, you can do it." Me and my non text-savvy self. Basically, if he can send a text message. You can do it. Obviously, you do need a smartphone, you couldn't text it from a non-smartphone. We know that most of our people and most of our church, we see them try following along, you know, making notes in their smartphone or even following along with our Bible app outline. So, we were already talking that way, anyways, and we knew that there was that basically that was already part of our culture.
KENNY: You planned it in a service to explicitly call it out and explain it and the senior pastor was the one that did it.
MATT: Yes. And, it was probably around the offering time and we just said, "Hey, this is just another option." I want to say, Kenny, the first couple of times we did it, we even just said, "Just test it out and just text a dollar. So, just kind of see how this works."
KENNY: Wow. That's a good idea.
MATT: You know, so that there's no… Before you type or put your normal giving, a larger gift, we said, "Let me show you this. Our Senior Pastor walks through it. This is what you do. Here's the four steps." We created some visuals that were really simple that just was like, TEXT this number. Text any amount to this number and you know, hit send and you're going to get sent back the link to complete. Once you complete that link with your name and your card information, that's all you have to do, so the next time… The first step is kind of longest step. So, as he was talking, we showed it on the video screen what it looks like with the bubbles going back and forth. Just to really give a good visual of what this looks like. And so we said, "We invite you to join with us now. You can just text a dollar just to see how this works and if it is convenient for you and if you would like to give this way, it's just as secure as online giving and it is super easy. So, once you complete that form, the next time you want to give, all you have to do literally is text that number, dollar amount, confirm this amount, you're done. It's just so easy.
KENNY: So, you did it more than one Sunday. You repeated it a couple of times.
MATT: Yes. I think for 2 or 3 Sundays in a row. We mentioned it clearly and I say, "You know probably 2 out of those 3 was our senior pastor on the front or back into that, may have been somebody else as they were kind of welcoming and giving the announcement, we are so excited, we got this new avenue for you to give. So if this resonates with you and it's easy to do that but text messaging if that's part of your world, we've got you that. If not, you can completely give, if you are comfortable, traditionally, you know, through a check or cash or with online giving if you'd rather do that. So, we just left it open like that. It was very well received. Of course, you're going to get kind of some questions around. 'Is it secure? I don't know'. But, that's why we wanted to really lower the bar and say, "Hey, just test this out and you can see how this works. Just text a dollar if you want just to kind of see."
KENNY: Right. So, those questions or concerns Are obviously expected. Is there any real push backs? No, you shouldn't be encouraging credit card usage or pulling cell phones out in the middle of churches or radical. Nothing like that?
MATT: Yeah, No. For the most part, no. I think. We do encourage them like, "Hey, we would love for this to be connected to your debit card. We don't want anybody to go in debt. That's not what we were encouraging." But, most of the time when you're giving online or even traditionally, via check, it's pulling from your checking account. So, we would just say, "We would encourage you to set up that same format as it is with text giving. It's just really easy." And, honestly, I've heard a lot of comments about people saying, "Hey, that was kind of fun." You're busy, you've got 3 kids. You know I've got 3 kids in the family. Sunday mornings can be hectic, we all know. And that's when everything in the world can go wrong, wardrobes, everything, dog food, all that kind of stuff. And so, getting your checkbook as part of what you're doing Sunday morning is easy to the cracks. You know, honestly for me, I don't even carry my Bible. My physical Bible would usually be with me on a Sunday morning that followed along on my phone. So, we knew that we could see that more and more. Just as an offer of convenience to say, "You can do this. This is simple as a text and you don't have to worry about logging into a website or anything like that. All the backend is completely secure."
KENNY: Nice, so, now, let's talk about your role in communications. I want to dig a little bit deeper. Where in the other places in the universe of Thompson Station Church do people ever get prompted with that call to action. Do you actually printed it in your bulletin? Do you actually mention it every week during your offering time? Does it physically, literally get mentioned that you can either give into the offering plate or text online? How does that actually manifest itself literally?
MATT: Sure. In that first season, really in the first year, and probably for the first six months, it was pretty loud and in a lot of places whether it was campus posters. We have some clean posters that are in our restrooms around the campus that just said, 'TEXT GIVING: Now, available. Try it out and see. Here's the number. Here's how it works." Just a good visual to show people how it looks like. So, that social media pushes, we have announcements slides that run before and after the services depending on what's going on. And the Sunday Service, they roll through all of the offering and goes as well. So, that visual was always there usually during offering time unless something else maybe in its place for that week. Then, at the time we were also doing kind of some video announcements and so we would add that in as well, "Hey, text giving is now available at Thompson Station Church. It is as simple as sending a text. It's just as secure as online banking. You know, that kind of thing. So, some of our internal people felt like they heard it a lot over and over again but that was intentional, you know. And, so, we probably back off now that it's been in place for about a year. You may see some things kind of different seasonality. Kindrid really did great job. They will offer you tools to say, "Here's a generic template and you can edit it." or "Here's a little bit towards Summer Time: Hey! Summer Time. Don't forget. Text Giving is still available." So, you can add that in there.
KENNY: Does your website prompt it?
MATT: Yeah, our website, last year, this time, we had a different template, so we've relaunched our website and kind of re-skinned it all and rebranded it and so, it still on the giving page. So if you click GIVING, it really just says, "Thanks so much. This is really what generosity means to us and it is in our culture when you give and here's the ways you can give, 1 2 and 3." And, so it really just spells out the traditional way, the online way and the text giving way. And even with a text giving, there's a video. Since it's the newest thing, there's a quick little video that you can watch that just really explains how easy it is. That is always there, front and center we cycled that through and then the other ways that it's probably gotten mainstage you know focus is a couple times. And this, last year, we've call people to give to a specific thing. There may be a local need that really rises up.
KENNY: Specific designated need.
MATT: Yes, so the cool thing is that we did is we rolled it out, gosh, for a while several months, just generic, and then, we introduced the fact that you could have associate it to a specific area. If you text your dollar amount and the word MISSIONS, this money will go specifically to this account.
KENNY: Got you.
MATT: And if you forgot to do that, you know, it will basically go to our general account but we have that time that we didn't confuse the message around like, if I give is it always going to missions, if give it always going to the general fund to Thompson Station church. So, we've had some fun around just missions focus and missions conference and say, "There's a local need, right here, guys, and what would happen if everybody in the room gave $5 to this." I've got some,, if I could pull this up, we did that just as an example last Fall. Just ask people to give a small amount like $5 or $10, you know, to what was going on. Just in that one Sunday we came across, we had 156 first-time givers.
KENNY: First time givers?
MATT: First time givers. That was just, they never have given to the church at all before but that was their first entry. And, so again, it was something small. It was easy. We raised around like almost $4,400 in one Sunday for that specific cause. We thought it was really successful.
KENNY: How hard or easy it is to set up a keyword for that type of campaign?
MATT: Super easy. So, a couple of key people on staff you know kind of setup the desktop against tool version of this very simple, really easy to use and so, it was very simple. What we love about Kindrid is it's kind of dummy-proof. And, so let's say the key word was MISSIONS. You're telling people and say, "Text to this number, dollar amount, MISSIONS". Well, it doesn't matter if you put MISSIONS dollar amount or dollar amount MISSIONS or a dollar sign or not. It's going to take it. And, if you misspelled it, it will automatically generate back to you like, "Hey, I'm not sure what this meant. Can you confirm where you want this to go?" And so, we'll give a clear direction of what to do but the backwards pairing of that goes through your way.
KENNY: Nice, that's really good to hear.
MATT: Yeah. We've been able to do that and that was one example we did last Fall. And then, the Spring, we had another specific collection that we have coming up for just some campus renovations and just some new things that need to be.. We called it, we were in this summer flex period. And so, we were renovating a lot of space that needed to happen so, we just wanted to call people say, "When you give to this, it's going to go specifically to these renovations to move. We're moving some of our ministry teams around in new spaces, so they just kind of have to be re-purposed and remade for the age that's going to be needing those spaces." So, our ways, we left traditional online, or traditional giving, available  You know, we all say, you can also text give and we just kind of gave that keyword. Keyword. Text amount to FLEX. And, it's going to go here. So, we said that in communications and letters. We said that from the platforms to say, you can give that way as well. One thing that I went back and looked at is it when the giving was over, I looked at the number and you know, still traditional gifts were the highest amount of participation in the traditional gifts, but text giving had surpassed online giving in this. So, the number of online givers was the smallest group and text givers actually surpassed them in amount of participation. Traditional gifts, then, text giving, and then online giving just for that specific kind of offering for that specific fund. I thought it's interesting that in less than a year, text giving have already surpassed that specific call.
KENNY: That's so interesting. I wouldn't never have guessed that.
MATT: And again, I just think because it's easy and we're just telling you how. And that's people, you know, following the directions on putting that keyword in there.
KENNY: Nice. Thank you for sharing all those insights and experiences. Are you ready for our lighting round of questions?
MATT: Sure.
KENNY: So, we got a couple of three questions. One is especially as a creative arts pastor, you're in the thick of things, you're always looking for inspiration, is there any podcast, book, resource, leader that you follow that you could share with our audience to help inspire them?
MATT: Yeah I mean, that's kind of a loaded question. I mean, I love to read. I'm just not in the habit, right now. I'm actually finishing all the books that are on my shelf. One of the books in the last season that really helps bring clarity is a book that I love and is called Less Clutter and Noise by Kem Meyer. It's just great for any person or any space that's kind of in that communications or creative role of their church that really kind of help validate the cause of what you're trying to do. Everybody's got the same goal but sometimes it's just the methodology or just the way that you're trying to accomplish it may not be as successful as what you wanted to be. So, that's a great read and then as far as just visually I mean I love just following other churches that are really just doing it well. Whether they're in your area or across the country just via Instagram. Instagram is one of my social media just because it's so visual and it's got photos and videos and now stories a part of it. So, you can kind of get a glimpse of what other churches are doing and how they're engaging their audience. You can just continually learn from and try to figure out how does that relate to you and your group and how can you relate to audience and just and your space and your region of how you can only do that. Just following along there is probably a lot of fun and I get a lot of great inspiration that way.
KENNY: Love that. You always want to be looking on things on Instagram as a perfect resource for that.
MATT: You know, does that belong for your group or does it not? Is it relevant or not?
KENNY: Okay, second question is dead or alive, if you could sit down and have lunch with anybody who would that be?
Wow. That was a tough one. 'Cause I want to pick somebody like at this far-off place so I can just travel to like this you know like this castle in England and like here, you know, like, how the life was from somebody that's completely different than me. Man, that's tough. I may pick. Gosh, I don't know if I could pick one person. I would pick maybe some awesome movie director like JJ Abrams or Peter Jackson like, go on location in one of the movies they film.
KENNY: Good choice.
MATT: Like you're involved. You're living in a different country for like seasons. And you are building this massive story that you want to be able to connect with audiences.
KENNY: Love that choice. Last one is, if anyone listening in today wants to get in touch with you directly, what's the best way to do that? Is it Twitter, Snapchat, E-mail, snail mail, Carrier pigeon. How can they get in touch with you?
MATT: Yeah, probably the best way would be my email address which is mallen@tsclife.org. That's probably the fastest way to catch me.
KENNY: Awesome. Thank you so much for spending some time with us today. It really is a blessing for you to share your practical experience of walking through how you guys communicate and roll out text and online giving. Thank you so much for sharing with the community.
MATT: Yeah, thanks Kenny. Thanks for having me.
KENNY: Everybody thank you so much for joining us for today's episode. Watch out for the next one. You're going to be pleasantly surprised about what we reveal in the next interview here on the Generosity labs podcast. Get this interview transcript audio and video downloads and more at generositylabs.org or subscribe to our podcast on iTunes or Stitcher Radio. Thank you so much. My name is Kenny Jahng, host of Generosity Labs Podcast. Catch you next time here. Have a good day.