When you think of a lab, what comes to mind?
White coats? Beakers? A little smoke and occasional explosion! Needles, knives, tweezers, and other tools?  
The dictionary tells us that a lab is "a place providing opportunity for experimentation, observation, or practice in a field of study". An experiment is "a test for the purpose of discovering something unknown".
So let's use Generosity Labs to talk about a few real world giving experiments we've been up to over at Tithe.ly. Sound good?!
Lab coats. Check.
Protective eye wear. Check.
Experiment #1: Will Mobile Giving Grow Overall Giving?
It's not uncommon for us to hear from churches that they have "online giving", but there is a very big difference between "online giving" and "mobile giving".
You see, most of the time "online giving" requires people to go to their laptop which is sitting at home. Meaning, instead of giving in the moment of the offering at church, the person has to remember to crack open their computer and get online when they get home. The chances of that happening is fairly slim because people fellowship after church, go to lunch, attend their kids sporting activities, spend time with family and countless other things. Then, the go home. Tired 🙂 Next Sunday rolls around and they are listening to the offering thinking "shoot, I was going to give online after the last service!".
Mobile giving, on the other hand, allows people to take part in the worship and give right in the offering moment or while the plate is being passe.
Michael Morris, Sr. Pastor at Cornerstone Community Church in the rural mountains of Virginia launched Tithe.ly about six months ago. Prior to Tithe.ly his church only had online giving tools avail for members to give.
He rolled out true mobile giving through Tithe.ly and the early results are impressive. Here's what Pastor Morris has to say …
"After launching Tithe.ly, we quickly saw our giving trends change. We now have 34% of all giving occur from mobile, which is a big increase from our previous solution. Another positive benefit is that 41% of our online giving is recurring giving, meaning that our giving is now more consistent week after week.
After the first quarter, the church is ahead of budget by 2 entire weeks! This is the first time the church has ever been ahead of budget during the first quarter. Based on the current average for 2017, we should exceed our annual budget by $50,000.
Conclusion: When put in the hands of members, mobile giving does, in fact, increase giving.
Experiment #2: Does the Summer Giving Slump Have to Happen?
The summer giving slump is a real thing in the church world.
What is it, you ask?
For many years there has been a direct correlation between attendance and giving. If people miss church, they don't give. It's seen most dramatically in the summer months. People go on vacation, have family in town, stay out and wake up late, etc. So, from May through August, many churches in the U.S. see giving "slump" (aka decline) due to attendance dropping.
It's been reported that the average decline is between 20 – 30%!
Based on the historical trend, many churches simply plan for this in their annual budgeting process. The scale back programs, activities, and other costs in order to keep cost during the summer inline with income.
But it doesn't have to be this way. Check out the chart based on Tithe.ly giving research below.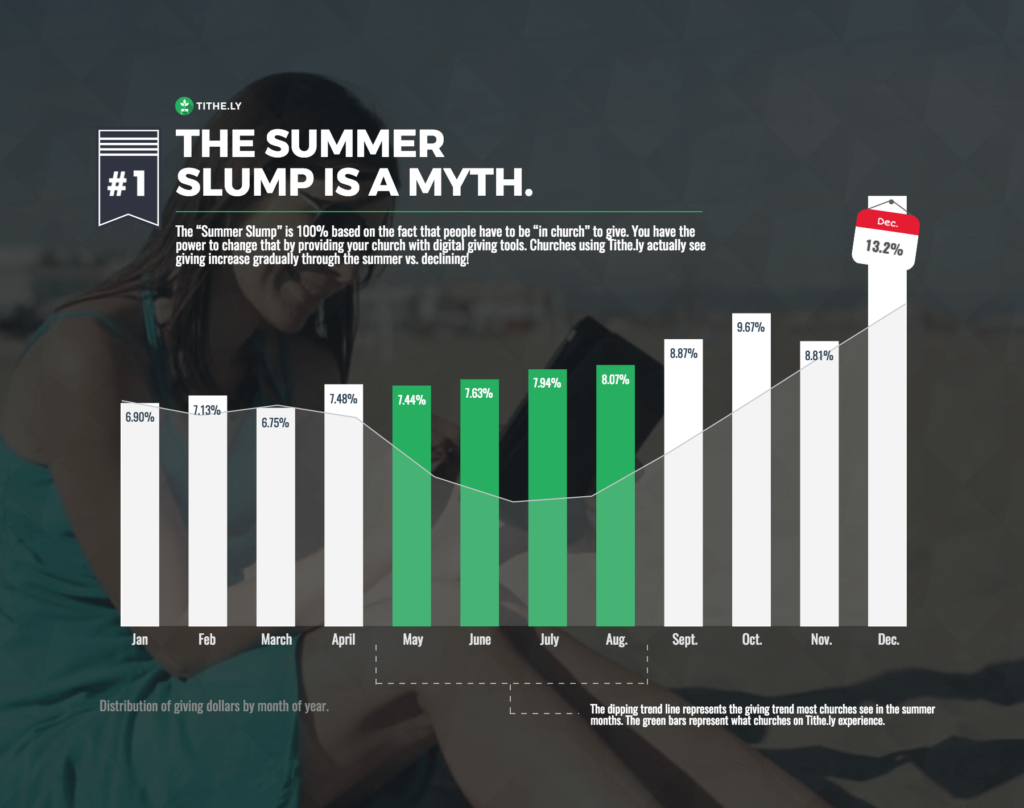 The line represents the normal giving pattern for many churches in the U.S. That's the summer slump!
The bars in green represent what churches using Tithe.ly see during the summer months. You don't even have to look closely to see that there is NO SUMMER SLUMP for churches using Tithe.ly. Giving actually steadily grows through the summer.
Conclusion: When you give people mobile, text, and online giving tools so they can give whether they are in church or away, giving doesn't suffer during the summer months so you don't have to plan for the "summer slump".
Experiment #3: WIll People Give Big Gifts Online?
It's not uncommon to hear church leadership share opinions about online giving being for small gifts. Somehow, church leaders have been convinced that people won't give big donations through a mobile giving app or online giving solution.
But, is that true?
The data suggest this is, in fact, a myth!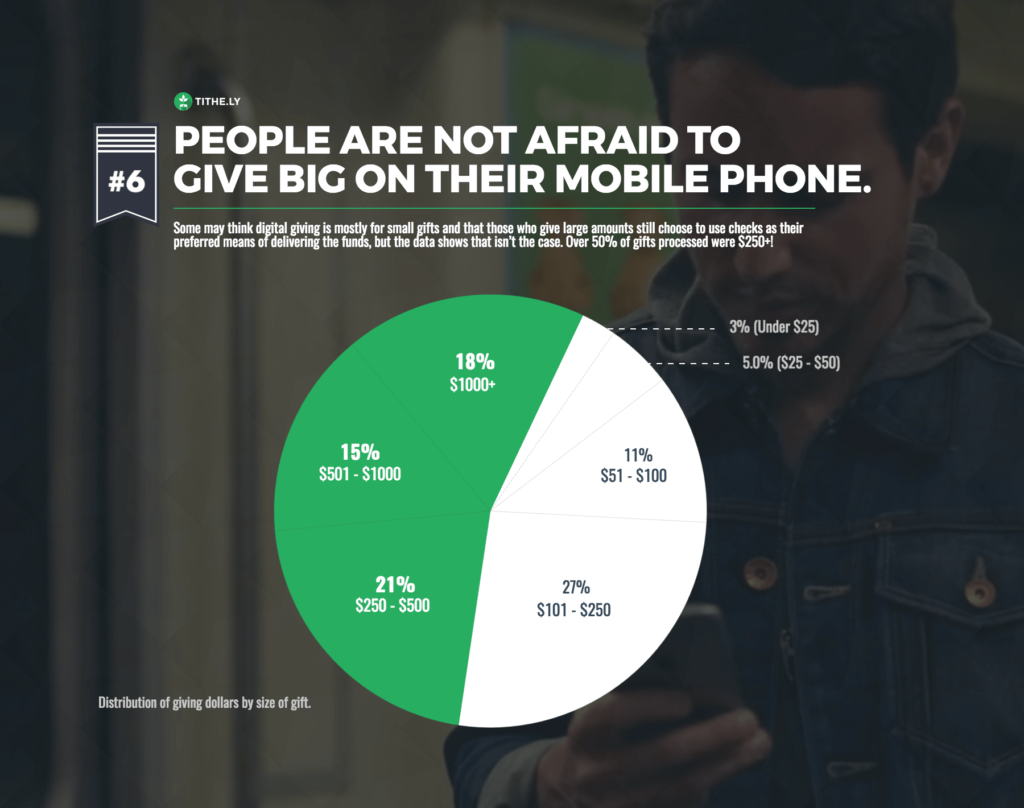 54% of gifts given through the Tithe.ly digital giving platform are over $250 with 18% being over $1,000! I wouldn't put those in the "small gift" category, would you?
Conclusion: Although popular opinion suggest online giving is for smaller gifts, the data shows that this isn't true. People are comfortable giving big!
Experiment #4: Do People Prefer Using their Bank Account Over Credit/Debit Card for Giving?
Let's start with a disclaimer: We are NOT in favor of anyone using debt to give or otherwise going into debt. That goes completely against the biblical call to be good stewards of the resources that God has entrusted to our care. We understand that this heart is the heart behind churches wanting to not allowing giving by way of a credit card.
The thing is, people, your members, prefer giving through a credit or debit card compared to using their bank account directly.
We don't have any hard data to support why this is the case, but we do have two anecdotal bit of evidence based on talking to a lot of people about it:
People do not want to attach their bank account to anything.

People like getting the points associated with using their credit card.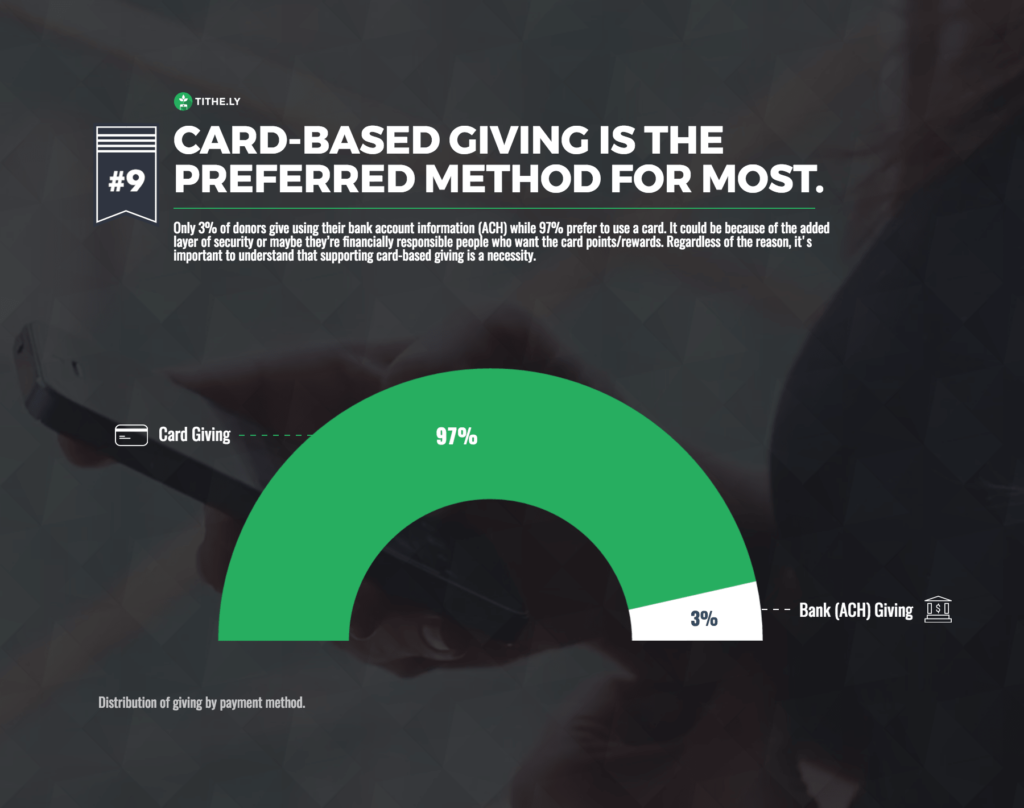 Conclusion: Card based giving is the preferred method for most individuals.
Experiment #5: Will People "Cover the Fees"?
Cover the fees™ is a handly little feature in Tithe.ly that allows the giver to help offset fees paid by the church to use Tithe.ly. Essentially, the giver can turn on Cover the fees™ and it will increase their donation amount slightly so that the church gets the full gift amount.
It's a feature that, to be completely honest, we didn't know would work or not, but we had a hunch and wanted to experiment a bit.
Much to our surprise, Cover the fees™ not only worked, it gets used in over 25% of all gifts made across the Tithe.ly platform.
DRf
Your turn …
You can take off your protective eyewear now 🙂
The experiments are done.
There you have it. Five real world generosity experiments that we've been running for some time, along with the data to back up the results.  We'd love to hear from you in the comments below! What giving experiments have you run? Do any of the above stand out or do you find yourself questioning the data? Let us know.
__________________________________________________________________________________________________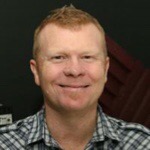 Dean Sweetman
For over 30 years, Dean has been involved in ministry and building businesses that support the work of the Church. He's help plant over 50 churches and raised millions of dollars to spread the Gospel, equip leaders, and change lives. Now Dean spends his time focused on using technology to advance the Kingdom. When he's not helping churches grow their giving with Tithe.ly he's spending time with his family and new grandson!